Wearable Arts On-Line Contest 2021

17 Sep - 30 Sep
Welcome to the CFCA Wearable Arts On-Line Contest!
The public voted on their favourites on our Facebook between September 17 -29, 2021.
Winners were be chosen by likes on the images on our Facebook page. Winners were  announced on September 30, 2021.
---
---
---
ADULT FULL OUTFIT
---
ADULT FULL OUTFIT FIRST PLACE WINNER
The Unwanted Book Dress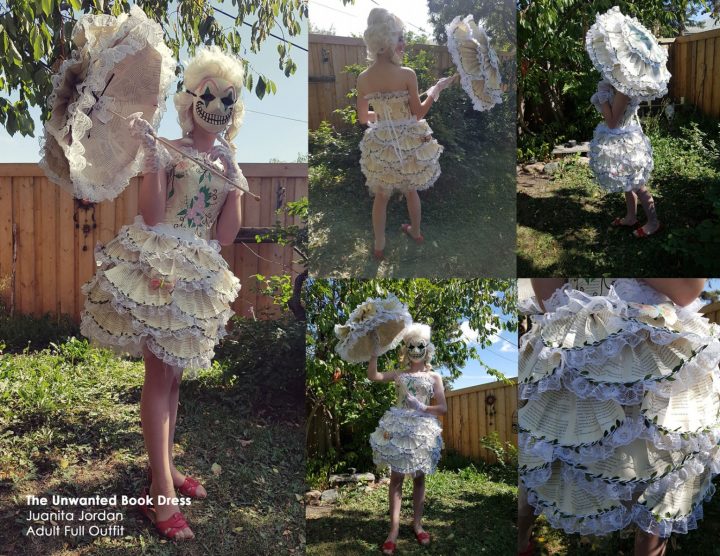 by Juanita Jordan
Modeled by Bellatrix Jordan
"The Dress was inspired by some books that I saved from being tossed, but also had no interest in reading or keeping."
Materials: Made from 410book pages, vine trim and lace trim. Mask was made from clay and acrylic paint.
---
ADULT FULL OUTFIT HONOURABLE MENTION
Every Baby Need a Teddy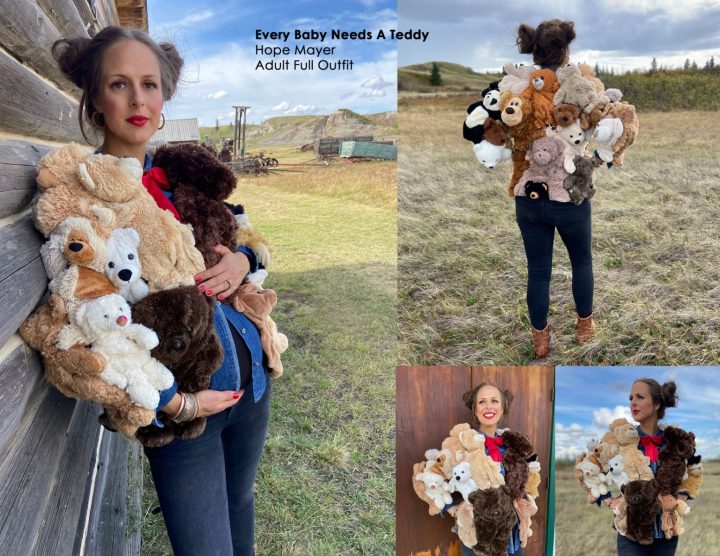 By Hope Mayer
Make-up inspired by Chantal Wall
Photos by Alina Kunz
"Pregnant with my third baby, I thought creating a cozy teddy bear jacket would be the perfect addition to the Wearable Arts Contest. These teddy bears were once loved by a child and are now bring joy to my art. Every baby needs a teddy bear (or more), right?"
Materials: Pre-loved teddy bears that have been intricately handcrafted and redesigned into a cozy jacket.
---
Patches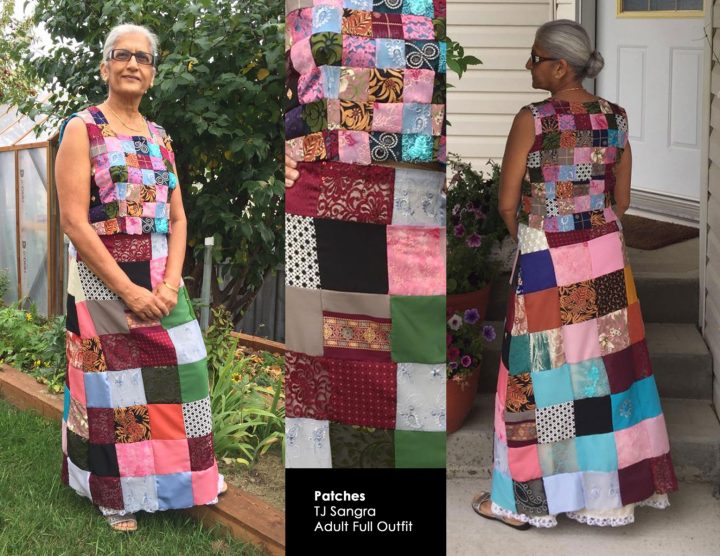 by TJ Sangra
"Remnants were left over from previous sewing projects."
Materials: fabric remnants
---
HIT-THE-SILK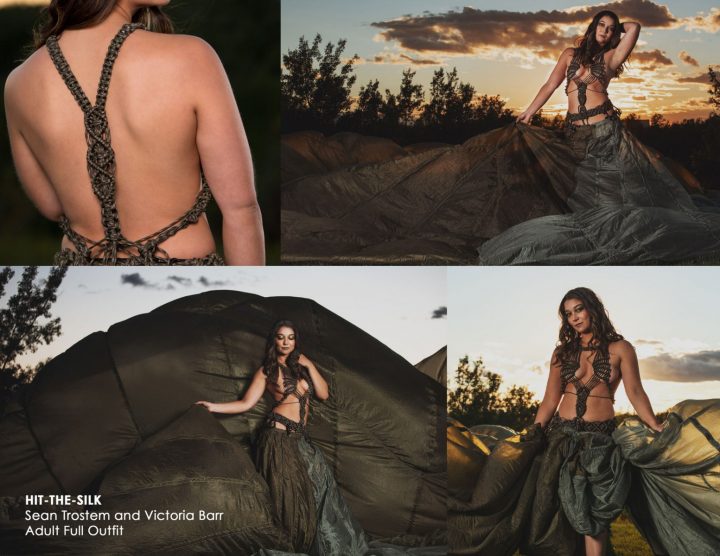 by Sean Trostem and Victoria Barr
Modelled by Taylor Kyoko
"Over 300ft of macrame paracord and 8 carabiners were used to create the bodice/harness to join the parachute skirt. The dress gathers at the front to allow ease of movement."
Materials: Macreme paracord, carabiners, parachute.
---
---
---
ADULT ACCESSORIES
---
ADULT ACCESSORIES HONOURABLE MENTION
Imagine Dragon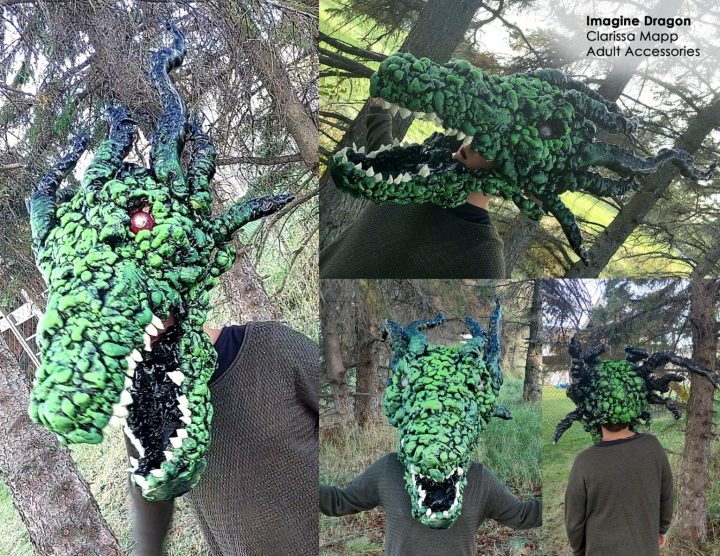 By Clarissa Mapp
Modelled by Elijah Mapp
"This was a decoration for my son's birthday party. The eyes light up!"
Materials: Copper wire base, spray foam insulation, eyes are dollar store ball and cup game, left over construction materials
---
Doll Eyes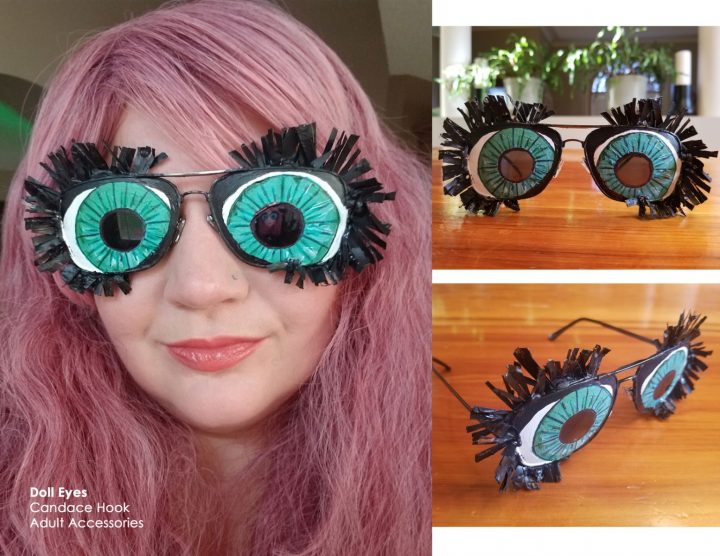 By Candace Hook
Materials: Old sunglasses, plastic egg carton, acrylic paint
---
ADULT ACCESSORIES FISRT PLACE WINNER
The Last Straw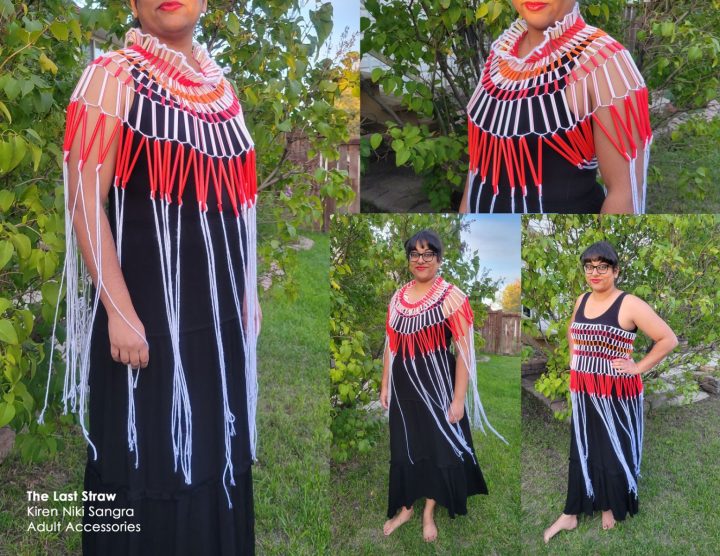 By Kiren Niki Sangra
"This piece can be worn several ways. A shawl with the collar up or down, parts can be tied around the body, or it can become a top. "
Materials: Reused plastic straws, yarn
---
Tea Bag Beach Bag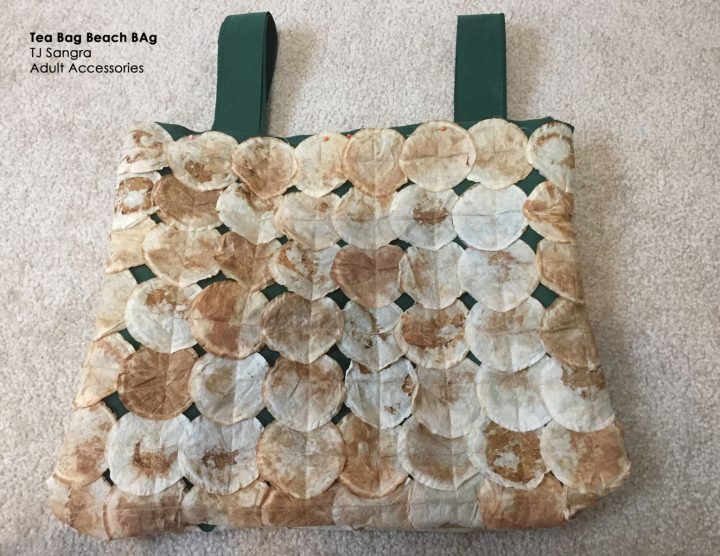 by TJ Sangra
Materials: Used and cleaned teabags and upcycled placemats
---
---
---
TEENS FULL OUTFIT
---
TEENS FULL OUTFIT HONOURABLE MENTION
Dark Valkyrie
by Hailey Almstrong
"This piece was inspired by the Valkyrie outfits worn by the district two tributes in the Hunger Games."
Materials: "This piece was made with all scrap fabric. It was embellished with toilet paper roll flowers. The headpiece was made of recycled cardboard with fabric scraps from other projects. It also includes a variety of beads, glitter and feathers from around the house."
---
TEENS FULL OUTFIT FIRST PRIZE WINNER
I AM IRON MAN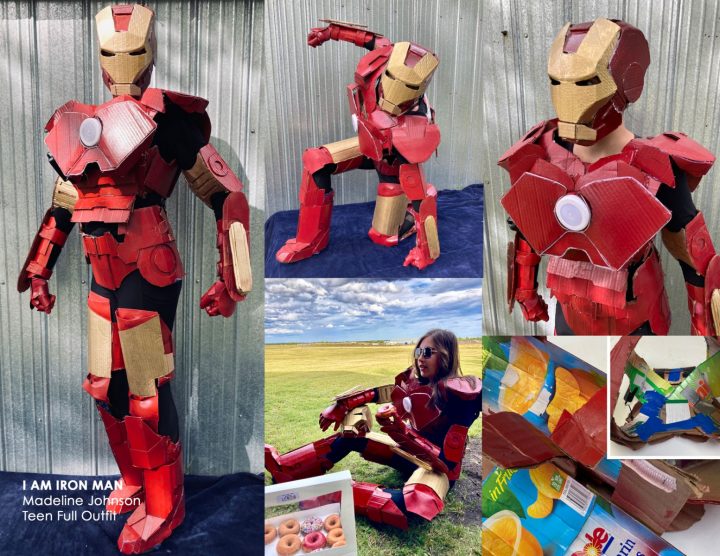 by Madeline Johnson
"This was my quarantine project that I have been working on for my grade 8 school year."
Materials: Recycled cardboard, craft foam, hot glue, prayers
---
---
---
TEEN ACCESSORIES
---
YOUTH ACCESSORIES FIRST PRIZE WINNER
Nana's Attic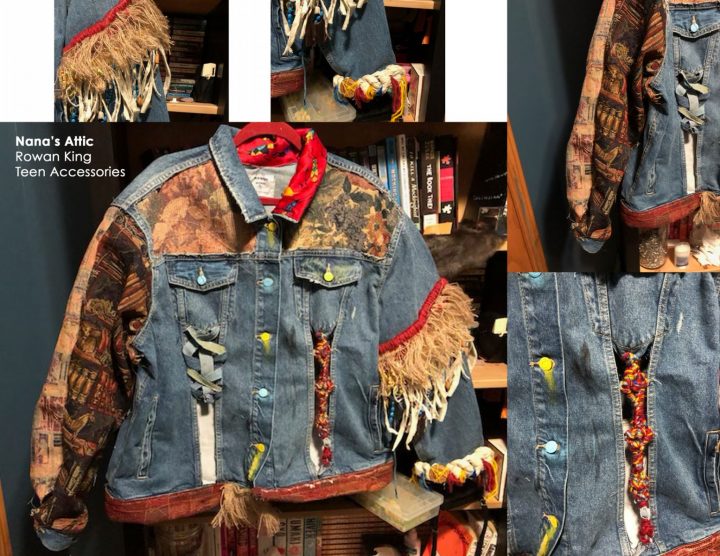 By Rowan King
"Multiple textures and unique materials were put together for this wearable piece of art."
Materials: Vintage pillowcases, fabric, scarves and denim repurposed from Nana's Attic
---
---
---
KIDS FULL OUTFIT
---
KIDS FULL OUTFIT FIRST PLACE TIE
Birthday Suit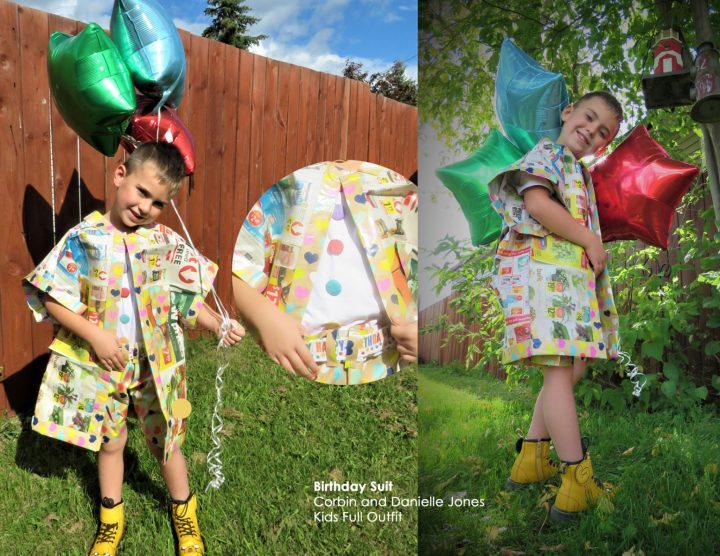 By Corbin and Danielle Jones
Materials: "Made from recycled birthday wrapping paper and decorations, as well as recycled newsprint. Hand me down shirt decorated wit recycled Valentine's pins wrapped/mod lodged with recycled tissue paper (also from his birthday)."
---
KIDS FULL OUTFIT FIRST PLACE TIE
Garden Magic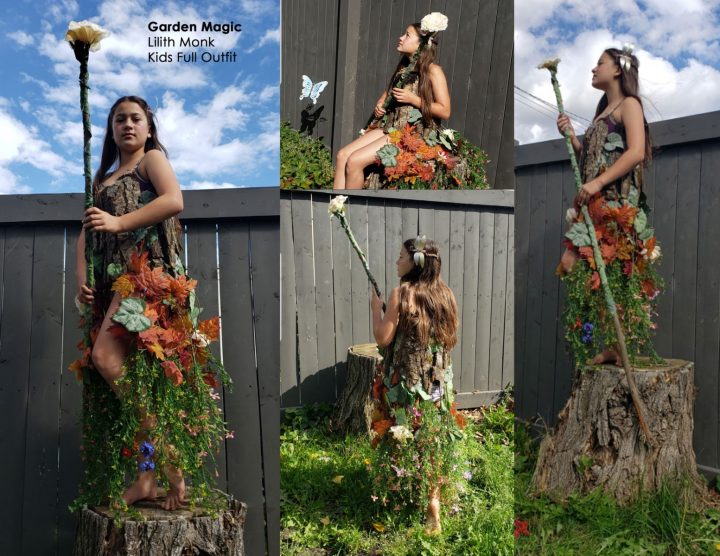 by Lilith Monk
"Gardening with my mom inspired me to create this piece."
Materials: "I used bark from firewood, collected while camping with my family. A large branch was used for my staff (this is where the garden magic is held). I used a plastic pop bottle to make the dragonfly hair clip. No flowers were harmed in the making of this wearable art."
---
---
---
KIDS ACCESSORIES
---
KIDS ACCESSORIES FIRST PLACE WINNER
The Hat Before Time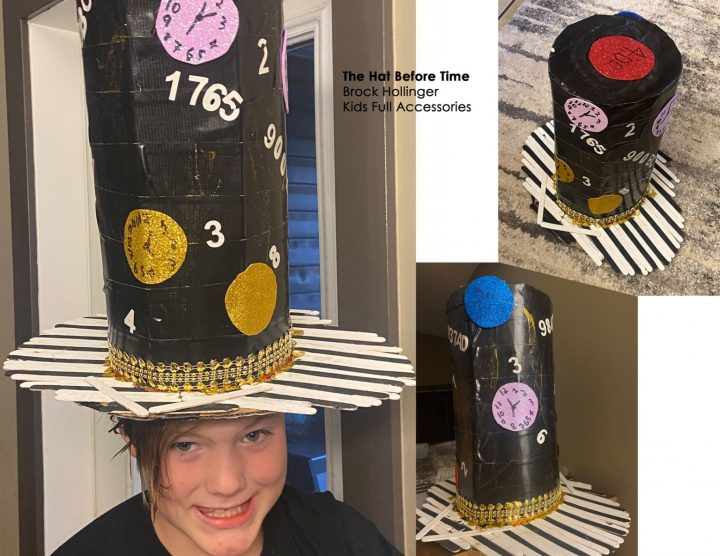 by Brock Hollinger
"I thought of the idea because of the clock art piece by Picasso. "
Materials: "Used recycled cardboard and popsicle sticks. Added duct tape, foam, glow paint and stickers."